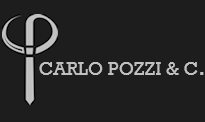 Carlo Pozzi was founded in 1945 by Mr. Carlo Pozzi and its main focus has been from the beginning the production of luxurious fabrics in 100% Silk.
Over the years Carlo's son Alberto has grown and expanded the business exporting the collections all over the world, selling its fabrics to the best manufacturers and international brands.
Nowadays the company is run by the third generation: Giancarlo, grandson of the founder, is now in charge of the management.
Carlo Pozzi remains a family owned business whose mission is to produce top quality fabrics, rich in style and creativity, using the noblest fibers and most sophisticated yarns with a production of fabrics for neckwear and for women's apparel. All production is 100% created and woven in Italy.

Carlo Pozzi & C.  s.r.l. - Via Don Brusadelli, 80 - 22100 COMO - ITALY -Tel. +39.031 308686 - Fax. +39.031 308121 - P.ta IVA 00227690138